DEVELOPING BUSINESS MODELS FOR MASS DIGITAL PAYMENTS IN INDIA
Developing business models for mass digital payments�in a diverse country like India is a challenging task. It requires multi-stakeholder coordination to understand �adoption and acceptance� challenges, develop and optimize innovative solutions and business models, answer the key question for merchants and consumers (what�s in it for me?), and consider future actions. But, above all, there is a need to design an easy-to-use digital payments interface that can cater to the needs and financial capabilities of the last mile target population.
CATALYST, as a multi-stakeholder initiative, followed an ecosystem approach to identify and operationalize business models relevant to the Jaipur market. We selected Jaipur as the target geography, given the existing infrastructure to support digital uptake such as availability of power supply, internet connectivity,� penetration of mobile phones, along with the general appetite and interest among locals to learn more about digital payments.
In recent times, the success of business models has been based on creating flexible value webs as opposed to static value chains. This means that the roles and responsibilities of players in the business model are not�necessarily linear, rigid, and well-defined from the start, but evolve during the course of the engagement.
We took inputs and guidance from the Government of Rajasthan, private sector organizations such as banks, fintech solution partners, merchant community and their distributors, and consumer households. While creating a blueprint for business models for mass digital payments, we had to keep in mind the requirements and contributions of these stakeholders.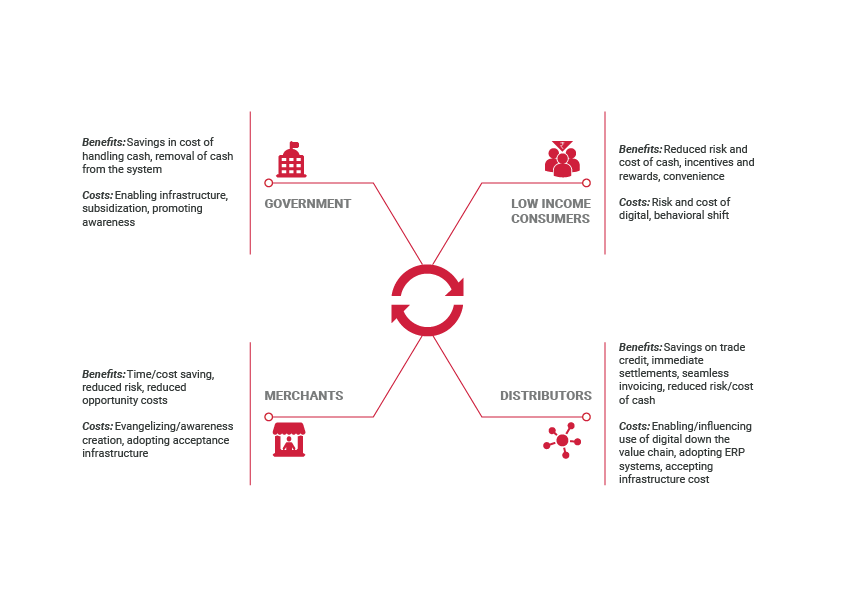 Payment digitization: the business use case
As part of the value web of stakeholders contributing to widescale digital payment ecosystems, the solution provider who creates and runs the application should connect with both consumers and merchants. Secondly, the solution provider needs to achieve a critical mass of consumer uptake for the merchant to adopt the solution and, in turn, consumer uptake will be driven by merchant persuasion.� This dual edged sword makes it complicated for the solution provider to create a successful business model. There is also a need to match the business logic of the solution partner with that of other actors in the ecosystem who are key drivers of the model. Therefore, among the most important issues in creating sustainable business models in digital payment services is how to create value for consumers, and who to include in the value network.
In Jaipur, CATALYST helped solution partners to address these two major issues. We followed an ecosystem approach to support mechanisms such as creation of market linkages, governmental support, collection of ongoing field insights and advice on critical operational challenges. Following are the key questions that need to be answered to constitute a successful business model in mass digital payments based on our experience of working with solution partners on the ground in Jaipur since mid-2016:
Who is the user? Identification of the target segment and creating a niche or a �one-size-fit-all� solution and customizing to specific segments: One can choose to follow either of these routes for market acquisition.
Can the user self-onboard? Assisted do-it-yourself for the Indian context: Not just the rural but the urban poor too need handholding support to embrace technical evolutions. A fully automated system will not work in the Indian context. The solution provider should engage the merchant as the assisting agent and the focal point to nudge consumer adoption.
What are the hooks and ladders? Levers to support scalability: One thing that stood out from all our field insights is that digital payments alone cannot be a sustainable proposition. Alternate hooks such as credit, savings or incentives for uptake are necessary to encourage participation.
Where do we start? B2B as a precursor to C2B: Other very important drivers for merchants to volunteer to onboard consumers on digital payments are distributor buy-in and backing. A value proposition that has worked in different value chains such as FMCG, pharma and dairy in Jaipur is the digitization of B2B payments which invariably pushes the merchant to also encourage digital payments downwards in the value

chain.

Why work with the government?� Its blessing is

an advantage if not a necessity

: It is clearly advantageous to have government support for the solution propagated. The best way to ensure that the ultimate consumer trusts the payment solution is if the government attests it.
What is the value proposition? Consumer

and/or merchant needs to see the value

: Ultimately the consumer is king and needs to see value in the solution beyond the freebies provided.� Merchants, on the other hand, need to make business sense of the whole proposition and ensure that going digital is profitable in order to engage the consumers. The solution partner needs to continuously engage with the merchants to make sure they understand this value.
Who are the partners? Alignment of stakeholders

in the �value web� is key for value creation and scalability

: All stakeholders need to be aligned to the central value proposition of the solution provider and there should be clarity on each stakeholder�s return on investment.
From the CATALYST Incubator program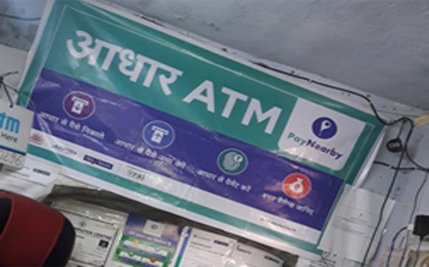 One of our partners in the Incubator program, PayNearby, has developed a full-fledged Aadhaar-based payment solution which converts any retail business into a micro ATM and payments solutions partner. While the primary earnings of the retailers come from the existing business, consumers are offered the option to make digital payments rather than pay in cash as they did traditionally.
Let�s take the case of a photocopy shop. The primary income comes from photocopying and, possibly, a few add-on services such as binding, ticket booking, and so on. An additional service such as a digital payment solution, which has facilities like domestic money transfers, Aadhaar-based cash in and out, bills payments, etc., requires no major new infrastructure support (apart from a low cost biometric device which is provided free if a threshold of transactions are achieved) and can start within an hour of onboarding, facilitates extra income and converts merchants into Digital Pradhans.
Another case is that of our partner Fingpay which provides Aadhaar Enabled Payment Solutions (AEPS) for the last mile customer. It has successfully onboarded micro finance clients on its platform. In a typical scenario of a Microfinance Institution (MFI) model, borrowers, usually from joint liability groups or self-help groups, pay their monthly dues to the field agent in cash or through the group leader. However, with the Fingpay solution they will be able to transfer funds with just a biometric reading (AEPS). This use case has been the driver of this business case. While there are challenges due to connectivity and transaction failure, the value proposition considerably overrides the technical issues which are resolved due to measures undertaken by all stakeholders involved.
The digital journey forward
As we have observed from our field experiments, there are pertinent use cases whose relevance needs to be mapped, based on the target segments. The advancement and acceptance of digital solutions by different user groups will escalate when larger players include them into their core systems and create an easy access environment for end users. While there is an inherent need to provide financial access to every corner of the country, it requires support from larger financial institutions to take advantage of the innovation that has already been tested and leverage it to reach scale.

Latest posts by John Arun (see all)

Latest posts by Preethi Rao (see all)