REMOTE PAYMENTS ERA: THE NEW �BOOM� TRANSFORMING THE DIGITAL PAYMENT LANDSCAPE
By Gaurav Singhal, Business Analyst at Catalyst, New Delhi, India
As real time bank-to-bank transfers, mobile wallets and other means of digital payments are creating a buzz across the country, mushrooming start-ups and their plans are starting to rely on digital payments to reach the holy grail of scale. Experts and influencers talk about engaging customers remotely and transacting digitally bypassing the need for face-to-face interactions. Innovators assume they will be able to plug into existing digital payment platforms (UPI, Payment wallets or banks) and leverage these networks to build multi-faceted and scalable solutions.
However, the Achilles heel seems to be the outreach element in creating awareness and familiarising consumers about the technology and its offerings. In most cases, consumer demand is a critical driver that influences payment behaviour at points of sale (POS) and research has indicated that digitising small-ticket transactions and/or frequent payment touch-points contribute largely towards the digital payment behavioural shift.
At Catalyst Jaipur�s digital payments lab, businesses are leveraging mature digital finance products to grow quickly. However, in the emerging digital financial services markets; start-ups offer a boutique of solutions from smart mobile based CRM [1] for small merchants to goal-based wealth management solutions for the poor. These create enormous opportunities for consumer literacy. Read on to understand out how MeraPaper, a newspaper vendor-centric solution provider used a smart solution and synergised it with a digital payment solution. It is an
interesting illustration of how using digital payments can pay off.
MeraPaper automates invoicing for small vendors and pushes out invoices to consumers using the media of SMS or WhatsApp. The budding fintech is convinced that integrating digital payments supplemented with an automated end-to-end reconciliation tool on their solution platform will result in a seamless transformation of the overall operational efficiency and business processes for a small vendor such as a newspaper vendor.
Founded by a team of fintech enthusiasts with one of the founder�s being from a newspaper vending family; MeraPaper was developed to solve the routine problems around the laborious manual processes in distribution, invoicing and payment collection. Whilst doorstep newspaper distribution is a streamlined process with a low error rate, the billing for it is largely a paper-driven process, one that is onerous and labour intensive and that can take-up to 10-12 hours every month. Again, the monthly collection of payments is equally cumbersome and requires at least 3-4 repeat visits to each household. In reality, it takes 20-22 days for a newspaper vendor to recover the revenue for a given month. This also includes manual reconciliation and cash accounting for book-keeping.
At the outset, newspaper vendors were open to payment digitisation when they realised its convenience and were, hence open to a trial to gauge its usefulness.� They anticipated a reduction in operational cost by at least 5%, incurred due to travel and wages to staff engaged in invoice distribution and payment collection.
However, making the final shift from cash to digital payments was a challenge, considering low-ticket size and conventional consumer behaviour. Users, particularly those who downloaded and started making digital payments during demonetisation, were excited to use digital payments, but only in theory. However, with cash surplus coming back into the eco-system, paper money continued to rule. Although like most urban cities in India, while almost 80%* of the population in Jaipur have mobile phones, fewer than 10% are active on digital payments platforms, and many have never used their wallets to transact on peer-to-peer payments.
Like any new technology, there are some quick adopters to trial, while there are others who need some time to be coached and handheld to attract interest and feel engaged. Reaching the masses through the vendor-medium was one of the challenging aspects for MeraPaper. Digital payment interfaces are daunting and notoriously unfriendly to users, particularly for the less tech-savvy segment who have language barriers. For example, making a payment through UPI [2] (real time bank-to-bank transfer) involves a few steps and requires a set of critical information in-hand (such as bank-linked mobile number, debit card, PIN, etc.) to get on-boarded and make or receive the first payment.
PSPs [3] and upcoming start-ups were meant to piggyback on the important work already done by banking agents and mobile money operators. However, educating consumers till the last mile is what will eventually make the difference and gain brownie points in building consumer-friendly business solutions.
Most consumers do not understand how to pay with their phones, simply because they have never needed to do so before. For companies that want to collect digital payments; it may come as a complete surprise to build this capacity at the outset in order to reel a successful and scalable solution.
The silver lining is that there are already some omnipresent solutions available, such as Paytm, which lets its users initiate transactions over the phone. But in the long-run, this problem illustrates the need for better partnerships and communication between solution providers and local merchants to enable them to become community leaders to derive the change. And to overcome its issues of awareness and reach,�MeraPaper�did just that.
Behavioural science reflects that the trust instilled by an individual outweighs automated/e-learning tools. Hence, engaging a coach or a change agent to develop the trust in consumers is a critical influencer.� The concern for companies like MeraPaper is that this level of training will be the death of scale. How can you hit growth targets when you have to contact a customer repeatedly to reinforce payment lessons?
MeraPaper approached Catalyst to help them design a proof-of-concept for mobile payments with Shravan Kumar, one of their newspaper vendors serving 400+ households across 11 localities in Jaipur. During demonetisation, Shravan Kumar had faced serious cash flow problems and since then, started accepting digital payments. However, the lack of knowledge on the various payment options made it difficult for him to sustain digital payment acceptance from his consumers. He recognized the time and effort opportunity that he saved in both digital payments and the value-add services like invoicing and reconciliation. During the first conversation with Shravan, he was delighted to experience the �pull payment� or �collect & pay� feature that wallets and UPI offer. He realized the minimalistic effort involved in triggering the payment request at the convenience of his home/office.� Thus, he was ready to embark on the pilot knowing that the additional effort involved would eventually reap benefits. This was the inception of the pilot with Shravan, a busy newspaper vendor and a simplistic solution, such as MeraPaper.
One of the critical execution strategies that was emphasized by Shravan was the need to hand-hold consumers during the on-boarding/registration/activation process on the UPI platform to ensure successful completion of transactions. To garner interest and participation, MeraPaper also announced a promotion campaign to Shravan�s consumers by rolling out a prize scheme of Rs. 30 to users who made periodic/repeat digital payments.
Initially, during the first couple of weeks when the consumers were introduced to UPI, feedback showed their scepticism in using the digital payment platform due to prevailing security concerns. However, after the know-how from a trusted source helped in building trust, many of them gradually realised the convenience of paying through UPI over cash, especially in the context of monthly newspaper subscription payments driven by consumer availability.
The UPI �collect� feature along with the SMS/ WhatsApp message with the invoice shared by MeraPaper allowed Shravan Kumar to collect payments remotely from his customers, eliminating the need for multiple visits to these households.
Although the first month was laborious since Shravan had to support the pilot by co-engaging with every consumer/household personally to guide, assist and hand-hold them through the entire digital payment on-boarding and payment process; the subsequent months proved to be easier since consumers were already on the UPI platform and Virtual Payment Address (VPA IDs) facilitated and familiarised a person-to-person payment transaction. �This helped Shravan Kumar to trigger a collect-request to these customers to authorise their monthly payment amounts. He now no longer needs to physically visit these customers to collect monthly payments. This has helped him to not only save a lot of time, but also streamlined his bookkeeping.
�I started using�MeraPaper�in August 2017. Earlier I used to spend�10-12 hours maintaining�balance books, and getting bill books used to cost me�500 rupees.��MeraPaper�has saved me roughly 16-17 hrs of monthly collection time and 10-12 hrs of billing time every month.�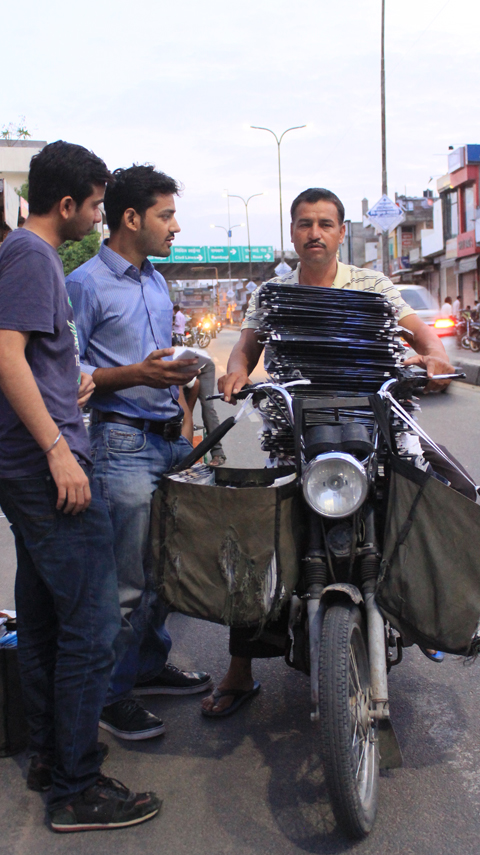 The invoicing message and payment mechanism has been very convenient for consumers. In addition, the digital track record provides an easy means of accessing payment history. Given the low ticket size, consumers faced the challenge of keeping track of bill payments made in cash. The UPI platform records and provides transaction history of payments made / received which is very useful for consumers to back-track payment requests.
The results of the pilot were encouraging and within the 3-month timeframe, a total of 300+ households were engaged. Of these households, 30% adopted a digital payments platform. For Shravan Kumar, his revenue from digital payments have increased tenfold in the months following the activation program from 2% to 20%, and has been steady thereafter.� Approximately 60% of his digitally-enabled consumer households are now making their payments to him digitally on a monthly basis consistently.
Although a majority of Shravan Kumar�s consumers are still paying their newspaper bills in cash, he still sees significant value in terms of the time saved for collections with the digitally enabled segment. He believes that over time he will be able to transition them to digital payment platforms.
This is just the beginning of a partnership that could yield dividends for both parties. The synergy between the MeraPaper solution and his client (newspaper vendor) exemplifies how adapting to digital payments solutions can not only improve operational efficiencies for a business, but also build an effective network through training community leaders to scale effective business models.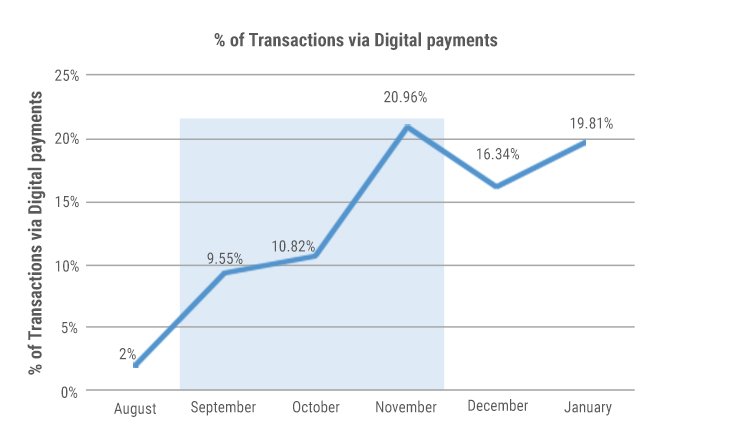 [1] CRM- Customer relationship management
[2] UPI – Unified Payments Interface
[3] PSP – Payment Service Provider
*Source: ICE Survey 2017

Latest posts by Gaurav Singhal (see all)