WHAT�S COOKING IN OUR DIGITAL PAYMENTS LAB?
Catalyst, along with its partners, is creating a digital ecosystem by combining and coordinating different use-cases and business models facing small businesses, suppliers and retail consumers. Our focus is to understand how digital payments enable small businesses achieve real and tangible goals, including access to financing and other financial services to grow their business, protection against shocks and business volatility, and more streamlined operations. What follows are three use-cases we have tackled to move the needle in mass digital payment adoption.
Digitizing Payments at e-Mitra
Scope
e-Mitra is a consumer service point wherein 350+ G2C and B2C services
are provided to consumers, with utility bill payment services as the most widely used transaction type. e-Mitras are run by individual entrepreneurs, often as an add on to their core business (e.g., a photocopying service or general kirana store). Almost 30% population of Jaipur transacts at ~5000 e-Mitra centers, of which 500 (our target segment) channel 80% of transaction volume. Currently, 98% of transactions are cash-based. Merchants have to fund a prepaid wallet to support these cash transactions, and often have to make frequent trips to the bank to maintain this working capital. While digital solutions have been made available, they come with a convenience charge which merchants and consumers (when passed on to them) reject outright.
As part of this initiative, Catalyst is testing Card and UPI based payments for e-Mitra retail transactions. The strategy is to introduce these payment modes at low or no cost, sharply communicate the user value proposition, create incentives to clock digital payments as part of existing revenue sharing formulas, and further explore hand-holding models to assist merchants and create a few digital transactions to initiate trial and demonstrate potential value.
The overall objectives are to increase digital payment penetration among users of e-Mitra, understand the impact on the e-Mitra business model, and build a case for more institutional support by Government of Rajasthan that can be scaled across the State wide network of 55,000 e-Mitras.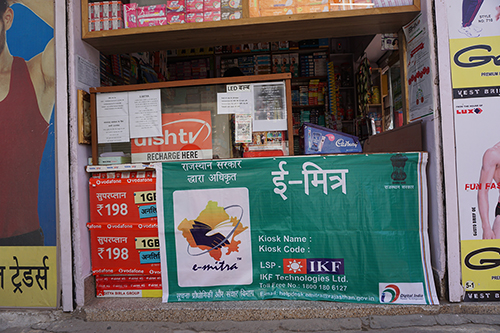 We have established some key learnings based on smaller scale experiments across a limited learning set of roughly 25 e-Mitras. First, subsidized POS machines were able to digitize 8% of transaction volume and 14% of total value in a span of three months. Second, we found that while benefits are understood by e-Mitra owners, they don�t feel strongly enough to nudge customers.
Lack of �trust� in digital payment solutions has been indicated by many entrepreneurs as the reason why people do not prefer paying digitally. An important driver for usage of digital seems to be the amount transacted. This is reflected in the proportion of card payments for electricity bills being higher (12%) as compared to water and mobile bills (5%). Also, we found that, once converted, consumers are more likely to use digital for smaller amounts.
During the last few months, UPI has been integrated into the Rajasthan Payment Portal (RPP) and is available as a payment mode across all e-Mitras in Rajasthan. The uptake of UPI however is currently low. Catalyst is now embarking on a �try UPI at no cost� campaign with strategic communication, hand-holding, and targeted usage-based incentives for both merchants and consumers alike.
Digitizing Payments in the Dairy Supply Chain
Scope
A very large section of the population visits dairy outlets daily for purchasing milk and milk products. Buying milk is one of the unique use cases which not only touches all strata and sections of the society, but is a common and frequent payment transaction. The entire payment cycle from customer to retailer to distributor is a daily affair and currently entirely cash-based. This provides for huge opportunity to digitize the dairy forward supply chain. This has potential to drive large-scale adoption of digital payments by consumers and subsequent behaviour change because of the repetitive nature of payments.
Catalyst is working with Jaipur Dairy (Saras), which
organizes around 80% of total milk supply in Jaipur and has an extensive institutional outreach of 750 branded booths and 4,000 shops supplied through a network of 62 distributors. The annual transaction volume of the payments from booth to distributor is roughly around Rs. 1,000 crore. Additionally, Saras Dairy has a similar institutional set up in each district of Rajasthan, which provides for large-scale replication.
Government of Rajasthan as part of their mandate to promote digital payments across institutional channels have mandated the Jaipur Dairy to target 50% digitization of their overall transaction volume.
Catalyst is assisting Jaipur Dairy to identify and test appropriate payment solutions, and identify business models to digitize B2B and B2C payments.
Our work has focused on finding a viable solution framework for B2B and C2B payments as per the business needs, and to bring potential solution partners on board to develop proof of concepts. In collaboration with these solution partners, our team has then focused on validating solution features, value-add services, feasible cost-of-ownership and operational efficiency improvement, for the stakeholders involved. We have kicked off work on the B2B interface with Paybee, a B2B payments platform inducted into our �Fintech for the Last Mile� incubator, and recruited four dairy distributors to engage with. Distributors typically deal with large volumes but earn razor thin margins to the tune of 1.4%. Given this, their avoidable �cost of cash� can be significant at 20%, not including additional reconciliation issues. In addition, there are safety and psychological costs associated with theft and crime that create demand for digital collections.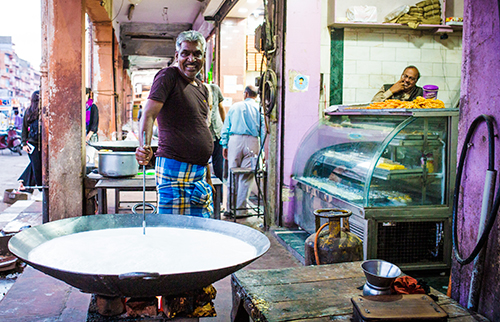 In the initial pilot, 70 plus retailers have adopted the solution, out of which 30 plus are fully onboarded, and 13 plus retailers are paying through the app without needing cash collection. 55% of nearly 1,600 invoices generated on the platform till date have been paid digitally by retail counterparties. The initial traction for the solution comes from retailers that make payments through bank transfers or cheques. Also, the distributor�s push for adoption is important and plays a positive role in retailer-level decisions. Retailers are guided through the first 1-2 payments being made.�Those paying through the app usually pay regularly with very few needing a reminder call. Thus, once on-boarded and agreeing to pay, they do not require daily visits. Few retailers are also keen to try out the UPI solution to accept payments from consumers who pay using Paytm and other apps.
Customer cash collections has emerged as a relevant pain point for dairy retailers as they need to deposit these monies in a bank account to pay their distributors digitally. To address this, Paybee has partnered with Karur Vysya Bank and is now exploring a partnership with another one of our selected startups, PayNearby, to digitize cash at the booth level.
It is important to digitize the booth�s cash inflows from consumers as well to complete the digitization of the entire supply chain. Dairy retail sales are characterized by razor thin margins (roughly 3%) and high transaction velocity during peak periods, and therefore require appropriate solutions that are low on cost as well as transaction time.� Catalyst�s next goal is to test C2B solutions such as UPI QR codes, Aadhaar Pay, and app-based closed-loop solutions across different retailer pools.
Building Digital Finance Models in an Urban Slum
Scope
Bhatta Basti is a low-income cluster situated in the locality of Shastri Nagar in Jaipur. It is a migrant settlement with an estimated population of over 10,000 households and over 45,000 inhabitants. Residents in the region are mainly engaged in wage labour, micro home-based manufacturing activities, or own petty shops.
In Bhatta Basti, Catalyst is experimenting with a structured digital finance user journey.�The first stage entails influencing the community to open or transfer bank
accounts to local Bank Mitras, banking service points set up within the community through FIA, our solution partner, and subsequently promoting more �active banking� in the form of withdrawals, deposits, receipt of eligible Government benefits, and use of savings products.
Post this, households are encouraged to digitize cash outflows and inflows for greater efficiency and convenience, and eventually diversify across other digital financial services ranging from goal-based savings (Kaleidofin), digital chit funds (Kyepot), digital credit and the like. Catalyst has partnered with SEWA Bharat to build awareness and capacity for sustainable behaviour change across these phases, especially among women in the households, through youth ambassadors or SEWA Saathis.
For a few months earlier this year, UIDAI level system changes made it infeasible for new bank accounts to be opened across the BC network. This further affected the business and morale of these fledgling local BC agent entrepreneurs, highlighting the criticality of reliable public infrastructure.
As of today, over 700 new accounts have been opened across 2 bank mitras that are operational in Bhatta Basti.
There has also been 75% drop-off in conversion of leads collected by SEWA in the community mainly due to ineffectiveness of Aadhaar as a means of identity verification, demand for opening children�s bank accounts, and certain misconceptions around account terms.
As part of awareness promotion, bank opening camps, miking campaigns and financial literacy camps are conducted every week. Some of the insights that have surfaced include low levels of trust in digital payment mechanisms.
There is significant scope to optimize the value proposition offered by these local bank mitras especially as compared to traditional branch experiences (e.g., flexible timings, more personalized customer service, etc.). There is also opportunity to harmonize this proposition across different customer touchpoints as well as to communicate it more effectively through role models to increase
traction. Targeted research into motivations for not opening bank accounts as well as patterns of use for those that do is needed as this will feed into greater customer centricity in solutions offered.
Finally, creative campaigns targeting early adopters to drive digital payment uptake through affordable and easy to use mobility solutions will be rolled out alongside digital enablement of anchor merchants in the community.

Latest posts by Team Catalyst (see all)