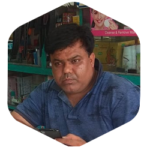 The narrow streets on our way to Amna's house are full of life in the disorganized neighbourhood of Bandha Basti, a hilly slum cluster in peri-urban Jaipur. Amna, a resident Anganvadi worker, has been working since 4 years with a monthly income of Rs. 2000 providing for the six family members with support of her husband.
PREFERENCE FOR PAPER RECEIPTS OVER SMS CONFIRMATION AND BIGGER MPOS MACHINES
Vaibhav Singh is one such kirana store owner in Sanganeer in Jaipur. He has been using a PoS machine for the last three years; he's keen to know about and use the new mPoS machine as a new mode for payment. However, his concerns on adopting an mPoS machine are whether he can get:
Printed receipts for each transaction; and
A bigger PoS machine at the same cost as the old one because a larger machine provides better visibility and does not easily 'get lost
THE WAY FORWARD
However, what remains to be seen is whether the mPoS companies' recent decision to do away with monthly rentals (lifetime rental free payment) with only one time installation charges (of approximately Rs1700) has a large enough impact for merchants to overcome their current concerns on paper receipts as well as machine size. If it does, even gradually, it will be a big step towards building digital trust among merchants across several age groups and levels of digital exposure.